Elisson gUG organised a multiple project "Multicultural vibes" which included a training seminar and a youth exchange.
The training seminar took place in Kryoneri Korinthias, Greece during the period 19-26.7.2021and during those days youth workers gathered in a gender balanced way from the countries Germany, Greece, Finland, Spain, Italy, Austria, Slovakia, Czech Republic and Hungary and have worked together with the common theme. There were 26 participants, 2 trainers and 2 staff members, 30 persons in total.
The project's idea was to connect different cultures and social backgrounds through music.
The project gave participants the opportunity to explore the importance of cultural heritage for shaping the European identity through music. We used music as a method of non-formal education, when working with young people. The purpose of this seminar was to create new synergies between youth work, music and culture.
The training seminar's objective was to provide youth workers and leaders of youth organizations with tools, in order to work with young people with an approach to music and culture. We strengthened the international dimension of youth activities and improved the capacity of youth workers and youth organisations supporting young people.
The training brought together youth workers (professionals and volunteers) having different artistic skills, as well as they were interested to develop their skills in working with young people in different types of art projects. During the project we used different methodologies, participants took part in diverse workshops, organised an intercultural event, organized every evening music sessions in the village for the local community, organized a happening in the city of Nafplio for the locals and performed their final music presentation during the final concert in Kryoneri. This project had a big impact to the local community.
What did participants wrote us about their experience:
"It was a very motivational experience, I met a lot of nice people and great musicians, I had a chance to learn new things and got ideas for improving my skills."
"Thank you, it was a wonderful week".
"I felt we came from European countries without important differences. Do it again please".
"It enriched my knowledges that I already had and of course it taught me the importance of opening our minds to other cultures and people in our continent".
"It changed my personality and had a deep impact in my life".
"I really liked that we were in non-touristic area and that the people were very generous and welcoming".
"I became more open and learned, how to communicate more with people from different countries".
"Meeting people and sharing music is a very precious thing that can't be forgotten. It's a great experience that leaves a footprint on your life and is definitely projected in improvised music".
"Thank you so much that you are able to organise such a wonderful workshop".
"It was an amazing experience and I definitely want to come again!".
"It makes me more open minded, more mature and patient".
"Thank you a lot for organising this event. I really enjoyed it and will remember it for the rest of my life".
And the statement of the participant Peter Konecny:
"I took part in such a kind of project for the second time, as participant from Slovakia and I have to say that it was wonderful. Not only because this brought me a lot of knowledge and experience, but also because I met once again amazing young people.
The village of Kryoneri is a beautiful place and I can't imagine a better place for such a seminar. The hosting organisation was perfect again. It gave me a lot, artistically and humanly.
I can say through this experience with other participants, that young people can contribute with values that will make Europe and the world a better, healthier, safer and especially a more tolerant place".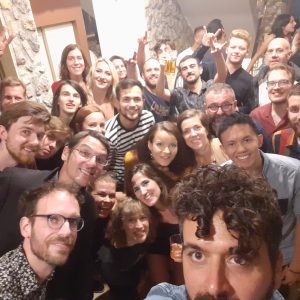 This project was supported by the Erasmus+Youth in Action Programme of the European Union through the German National Agency "Jugend für Europa"